Popular analyst company Nielsen has published its report on the US smartphone market in the second quarter of 2012. The quarter saw smartphone growth continue as two thirds of all new customers picked a smartphone.
51.8% of all US smartphones belongs to Android and 54.6% was purchased over the past three months. The statistics have been created before the release of Samsung Galaxy S III. Only imagine them after this release.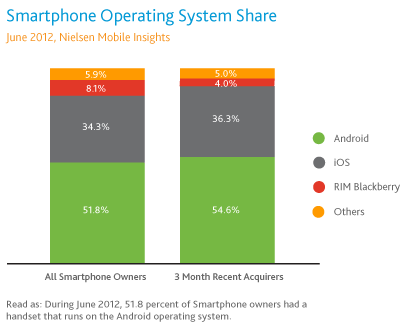 Apple's OS  owns 34.3% of US smartphones and 36.3% of the newly acquired ones. What is more, the statistics are thought to rise once the iPhone 5 comes out. BlackBerry is the only other platform on record by Nielsen and it continues its free fall. While the RIM OS still powers a respectable 8.1% of US smartphones, it only managed a market share of 4% with new subscribers. Windows Phone has only managed a market share of 1.3% and  Nokia covers just 0.3% of the market
.